Where's Harry?...

Whether it's his live one man stand-up show, personal appearances, book signings, question and answer workshops, radio/television interviews or story-telling author events, here you will find the answer to that often asked question: 'Where's Harry?'

As the tour dates gig list below is subject to change please revisit it regularly to check for the latest updates. Add this page to your browser's Favourites list and you can return here at the click of a button.



Harry's on Facebook...

Harry's Facebook page is another source of 'Harry the Polis' information, so why not send him a 'Friend Request!'



Would you like to book Harry?...

If so, please get in touch via the Contact page.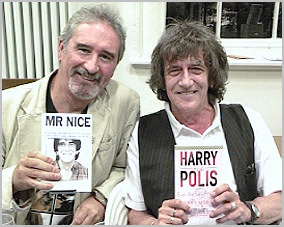 Harry with Welsh author Howard Marks swapping and publicising their respective books during an author's event held in the City of Liverpool.
---

Two unsolicited comments about Harry's live one man stand-up show...
• "My wife and I had a wonderful night listening to you telling your stories, We laughed all the way home. Look out Billy Connolly." - Ian and Rose Mitchell.

• "I took one of your flyers last night and got your email from it so I thought I would just let you know how much I enjoyed listening to you. Like the rest of the audience, I had a great time and couldn't stop laughing you were thoroughly entertaining. Looking forward to reading your books." - Anne Wilson.



Harry's gig list...

To confirm start times/ticket costs for any of the dates listed below please contact the venue direct.